Product Features
1) Large torque, high precision,smooth running.


Product Description
1)Type:hybrid stepping DC Motor
2)Stepping angle:1.8°
3)Step Angle accuracy:±5%(full step, no load)

4)Resistance accuracy:±10%(@20℃)
5)Inductance accuracy:±20%(1KHz)
6)Temperature Rise:80 ℃ Max.(Rated current, 2 phase on)
7)Ambient Temperture:-20℃-+50℃
8)Max radial force:75N at 20mm from the flange
9)Max axial force:15N

10)Rotation:CW
11)Dielectric strength:500V DC for one minute
12)Insulation resistance:100MΩMin.,500VDC
Note: These are only the typical technical data for reference, other specification such as voltage, speed, torque, shaft length can be customized.

Item No.

CB57STH41-1006A

Rated voltage VDC


5.7

Current/ Phase A




1

Resistance/Phase

Ω

5.7

Inductance/Phase mH

5.4

Holding torque kg-cm

3.9

number of Leads

6

Rotor Inertia g.cm²

120

Weight kg

0.45

Detent Torque

k

g-cm

0.21

Length mm

41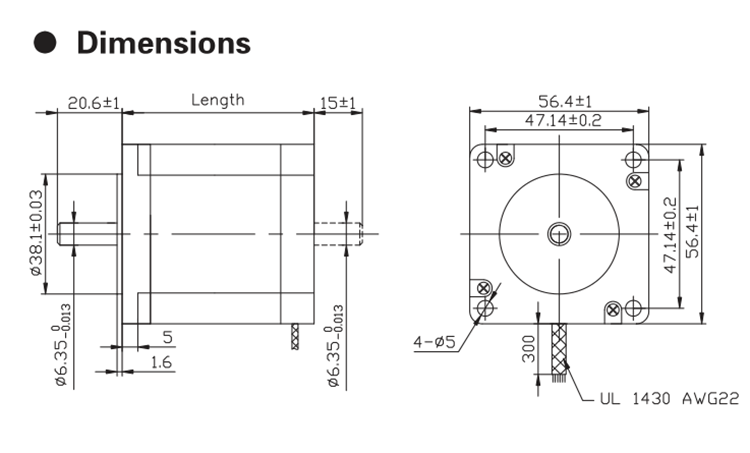 Product Information

Diameter of motor:57mm
Length of motor:41mm, 51mm,56mm, 76mm, 84mm
Color: Silver

Quotation Information
Price Range:$14 - $42 per piece
Minimum Order Quantity:100 pieces
Lead time:30 days